Safety Online At Tax Time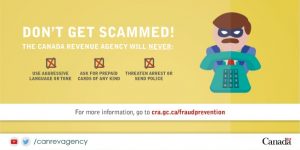 The Tip
Now that we are entering the full swing of tax time, it's important to remind ourselves that this is the season for online scams, phishing emails and fraudulent phone calls. This is the cybercriminals' most favourite time of the year.
The Detail
In 2018, the CRA reported that over 60,000 Canadians complained of phone scams alone. In the USA, the IRS reported an astonishing 60% increase in bogus email schemes looking to steal tax money or data. The Canada Revenue Agency tells us that CRA scams may come in many forms – over the phone, by e-mail, or by text message – in all cases the caller or sender poses as an agent in an attempt to gain personal information that can be used later, or attempts to intimidate a victim into providing real financial payments.
Phone Scams
Scammers posing as CRA agents may claim several possibilities;
that you owe money and are facing arrest
that a lawsuit has been filed against you
that an arrest warrant is outstanding against you
that you are facing deportation
In all cases, the threats are an attempt to get you to share personal information and/or pay money. Hang up.
Email / Text Message Scams
You will receive a convincing message from a fake CRA agent claiming;
your tax calculations are complete and by filling in a form, you will receive an immediate refund
that you are being accused of tax evasion
that your filed form has misinformation and needs to be revised
that you are under investigation
that you have received an e-transfer for your refund
Rejecting the scam and protecting yourself
Hang up immediately if you are suspicious, or delete the email. The CRA will never threaten immediate arrest or use abusive language
The CRA will never request payment by means such as e-transfer, bitcoin, pre-paid credit or gift cards
Do not click on any link in an email pretending to be from the CRA. The CRA will never ask you to click on a link for refunds or for information collection
The CRA never sends text messages
Make sure your younger family members and friends are aware of this
How to respond
If you're just not sure, confirm your tax status online through a CRA secure portal such as My Account or by calling 1-800-959-8281
File a report with the Canadian Anti-Fraud Centre (CAFC) toll-free at 1-888-495-8501 or online, whether you paid money or not
Report the scam to your local police if you paid money in any form
If you sent money or shared financial information, report it to the financial institution used
If your social insurance number has been stolen, contact Service Canada at 1-800-206-7218
Additional information can be found at
If you have more questions about these topics, please contact UTS, and we'd be happy to offer what guidance we can. There is also a wealth of information to be found using your favourite search engine.